We will rejoin regular programming tomorrow, but today we pause to remember.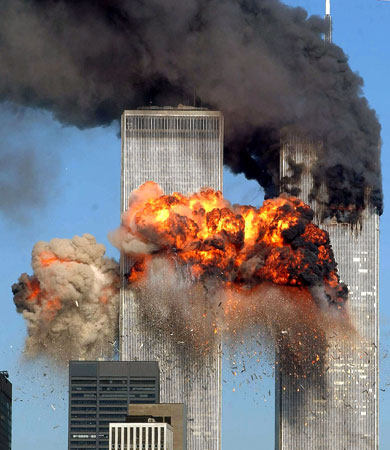 We must never forget the events of 15 years ago today on Tuesday, September 11, 2001. America was attacked on our own soil in the worst terrorist attack in history.
The debris has been removed. Those lost have been honored. The memorial and museum have been built. Some of the buildings have been replaced. The families have pressed forward the very best they can. Some of the perpetrators have been punished. But we must never forget.
Many in the world would like us to forget.
Many in the press would like for us to forget.
Many in the government would like for us to forget.
But we must never forget.
Over 3000 thousand lives were lost in the World Trade Center in New York City, the Pentagon in Washington D. C and when flight 93 went down near Shanksville, Pennsylvania. 3000 plus lives!
Families were forever changed and scarred.
Parents lost children.
Spouses lost their companions.
Friends were separated forever.
Many businesses lost key employees.
New York City Fire Department lost 343 firefighters.
New York City Police Department lost 23 officers.
New York City Port Authority lost 37 officers.
Over 3200 children lost at least one parent.
How could we ever forget?
We visited the 9/11 Museum and Memorial in August 2016 and wrote a fuller report of our first visit in the summer of 2014. These two visits had a sobering impact on our family. We were seeing many of the film clips and pictures for the very first time. I have described it as an emotional punch in the gut.
The hours we spent there were some of the most sobering, severe and significant hours in my life. It is a place that haunts not only my sleep, but often even my waking hours. It may seem cliche but I assure you it is not, 9/11 changed our lives forever, even those of us that were thousands of miles removed from the destruction.
As we walked out of the museum the first time I knew I would be back as soon as possible. It told my family the same at that moment. There is too much information to absorb, too much emotion to process in one visit and probably too much to take in over several visits.
In the museum I came to the slow realization that we are not talking about a group of 3000 random people being tragically killed, which is heartbreaking in itself, but we are talking about 3000 individuals, all with families, hopes, dreams, ambitions and plans.
The personal cost, the personal hurt, the personal tragedies are completely overwhelming when standing on their own. To hear their voices, to see their pictures, to watch video clips of them with their families, to hear their loved ones talk about them is powerfully poignant. When you put it all together in one event and attempt to add up all the loss of real, living, breathing humanity, it is unfathomable!
Consider just one personal story. It is the story of Captain Terrance S. Hatton the commander of Rescue 1 in Manhattan. Captain Terry Hatton was killed in the north tower when it fell.
His wife, Beth Petrone Hatton was the Executive Assistant to Mayor Rudy Giuliani. She was standing on the steps of City Hall as the World Trade Center collapsed. She knew exactly where her husband was at that moment.
Captain Hatton was a man of duty. He was 41 years old and had served the NYFD for 21 years. In those 21 years he had earned 19 medals for bravery including the highest award in the city, the Medal of Honor. He was considered by those that served with him as one of the best.
Beth Petrone knew all that. She knew her honorable husband would be on the highest accessible floor conducting rescue operations. That was his job and he did it well.
As she watched the tower fall, she instantly knew he was dead. The dust engulfed City Hall and Beth found herself holding handfuls of the debris thinking she was somehow holding her husband.
They found Captain Terry Hatton's remains two weeks later and buried him in the fashion of the hero he was. By then, Beth Petrone Hatton had learned she was expecting their first child.
Terri Elizabeth Hatton was born in May of 2002. She is a beautiful teenager now and she will never know her heroic father except for stories. He will never hold her. He will never tuck her into bed. He will never read to her. He will never walk her down the aisle. He is gone. Beth lost her husband and little Terri lost her Daddy, simply because he went to work that morning.
That is the story of only one man that died and it does not even include the hurt of his parents, his siblings, his other relatives, his friends or the men he worked with and all the rest he left behind.
Multiply that one story by 3000 plus stories and you have not even begun to scratch the surface of why we should never forget!
Maybe you will enjoy your family today. Maybe you will go to church and worship. Maybe you must concentrate today on walking through your own personal hardships or even tragedy. Wherever you are and whatever stage in life you are in, p
lease take a moment to think about all that were lost on September 11, 2001.
Take a moment to remember. Take a moment to consider what might have been. Take a moment to pray for Terri Elizabeth Hatton and many, many of thousands of others that are moving forward and trying to overcome each day.
I believe we owe them that much.
Thank you for reading.
Davy