This whole weekend was spent finishing up revival in Independence, Iowa. Most of the time, we close revival on Friday and travel on Saturday to begin our next revival on Sunday. That is the way it works best for most churches, but between you and me, we love midweek through Sunday revivals.
Preaching Wednesday through Sunday keeps us off the roads on the weekend and usually gives us two days, Monday and Tuesday, to travel rather than only one day on Saturday. It also gives us a chance to recuperate and to rest our voices between revivals.
No major complaints though, we love revival and we will take it any way we can get it! It is an amazing privilege to get to do what we do on behalf of the Gospel and God's great people.
We will have many more pictures in a Revival In Pictures post tomorrow, but there are a few from my phone coming up below.
Several folks have inquired about the Mexican food in the great plains of Iowa. We have only eaten at one Mexican place in town, but it is the favorite of Sis. Ganze. As you know, we are pretty snooty about our Mexican food, but this was pretty good. It may not come up to our very favorite, but we definitely were not slumming.
The chorizo street tacos were pretty good and I would have eaten them again in a heartbeat!
Pastor Ganze and the men have remodeled the entryway of the church along with the coat room and the prayer room. It is all beautiful. I have especially enjoyed the prayer room this week. It is so cozy and inviting. It really feels like a sacred place. This picture is a pano from one corner.
And a pano from another corner.
I tried to get a picture of the ceiling, but it may be confusing. The ceiling is beautiful.
There is a combination hardware/lumber yard not much over 1/2 mile from the church that was going out of business on Saturday. I hate to see any place go out of business. It is sad on so many levels, even if the owner is retiring and selling out as a matter of choice. It is obvious this place has been a fixture here for many years.
All of the guys working the counter were my age and above. Some of them might be retirement age, but very likely some of them are now in need of work and looking for a job. Like I said, sad.
The owners were having a going out of business sale. They were down to just the bitter dregs of hardware inventory, but I enjoyed walking through and picking up a few items at 80% discount. It would have been more exciting with more inventory a week or so ago, but the discounts were probably not as good as they were at the last minute.
I purchased mostly drill bits and saw blades that I know I will need and buy in the future. Their list prices were a little more than you would pay at a big box store, but at 80% off, they were deals!
Most of the masonry bits were under 50 cents each and you can not beat that with a stick. The Milwaukee 4 1/8" hole saw is normally $20-25 and I got it for $4.70.
Overall I spent about $40 dollars for $200 worth of stuff in their normal prices and probably $170 at Lowe's or Home Depot. Here is my haul for $40.
It brings back to mind my post about blind nuts finding a squirrel now and again.😀
Pastor Ganze and his wife took us to a restaurant right on a golf course for lunch on Saturday. One of the greens is right next to the parking lot and Kelly Jo wanted to feel the grass. It looks like she is kneeling down and lining up her winning shot.
Maybe she could open up a new income stream for us by winning the Masters and getting a sporting goods sponsorship.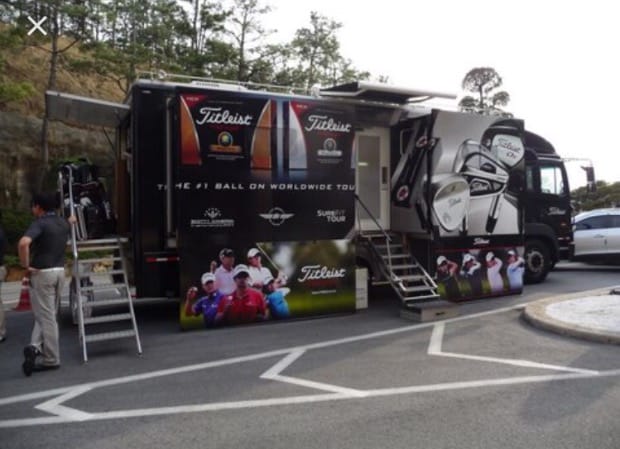 Yeah, we could probably live in one of them. She better win big or we may end up in this one.
Maybe Kelly Jo should stick with the piano.😏
Sunday afternoon, we pulled the bus and trailer forward in order to load the Green Machine into the tent trailer. After church, all we had to do was load the sound equipment, crank the bus and hit the road!
The weekend was topped off with a wonderful service Saturday evening and two great services on Sunday. We had not been to Calvary in Independence for a long time, but these folks received us into their hearts and loved on us. It was sad to go.
With lots of love in our hearts, we did what we are called to do and soon we were on our way toward Wichita, Kansas. We only drove about two hours, so we have a long ways to go today.
We have some more running to do so it is time to close this thing out and hit the road. Thank you for dropping in today. Have a great week.
Davy