The RV Park we have stayed in several times while in Oklahoma City was hit by a tornado last week. It was a direct hit and several people were sent to the hospital but thankfully no one was killed in the park. Here a couple of pictures from the last time we parked there.
We have taken cover from tornadoes several times while preaching revival in Oklahoma City. In 2003 we had tornadoes two nights in a row. One evening they went south of us and hit Moore and Norman and then out by Tinker Air Force Base. The next night during church they went north of us and hit northern OKC.
We took cover the first night in Bro. Rickey Searcy's house but our 1984 Hitchhiker fifth wheel was obviously exposed. It took a beating in the hail storm that came with the tornado. Since it was 19 years old the insurance company wanted to total it but I resisted. It was still intact even though it did not look very good. It followed us for another 40,000 miles before we sold it.
We also rode out a very bad hail storm in the BoggsMobile in Alabama. Those two experiences were bad enough. I hope we never see what the folks in Roadrunner RV Park in Oklahoma City saw last week. That was some kind of ride.
Please pray for the folks in Oklahoma, Texas and other places affected by the recent tornadoes.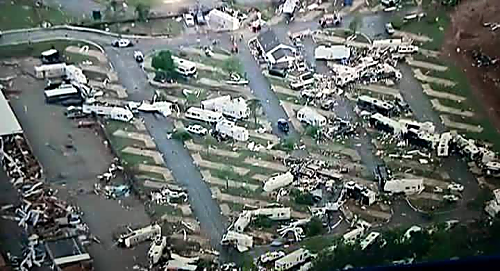 The empty concrete space in the center/top of the picture below is where we are parked in the pictures at the beginning of this post. We always park in that first or second spot.